The Pinglet has survived the first 2 1/2 weeks of kindy. I guess I should add that I've also survived. She LOVES it. As in, gets up at 6am wanting to get dressed and asking every 5 minutes when the bus is coming. As the bus doesn't get here until 8am, the morning can be quite vexing at times. I'm thrilled that she loves going to school so much though.
Trying to ask a 2-almost-3-year-old what she did in school is quite a complicated undertaking:
Me: Mommy MISSED you!
Pinglet (struggling to free herself from my grip): Again?
(Said every time I say this to her)
Me: Did you have fun at school today?
Pinglet: Yes.
Me: What did you do?
Pinglet: Played, and played, and played, and played
(Her every day answer)
Me: What did you play with?
Pinglet: Trains
(Again, this is the same answer I get every day. Could she actually be playing with trains every day? Methinks not.)
This is followed by a brief moment of time in which I try to wrestle her out of her school clothes and into something more appropriate for whatever activity she has planned for the afternoon. At least it seems planned to me since she comes barreling through the front door, asking me to take out the playdo/paints/dolls/eat chocolate.
I've gotten used to her new schedule, which allows me to work during the daylight hours. It's hard to believe what I've been missing for the past 2 1/2 years. Sleeping at night? My body is having a tough time getting used to sleeping longer than 2-3 hours a night and I'm actually more tired than before. How can that be?
Kindy has also forced me to venture into uncharted waters, including preparing a
bento
pretty much every day. Originally, I was supposed to supply the Pinglet with a bento twice a week, but Monday and Friday are "bread lunch days," which the kindergarten has so helpfully "recommended" that I suppliment with other food so that my dearest child has a balanced lunch. Wednesday is the only day that there is actually a real lunch provided. I'm not a good cook. Actually, scratch that. I'm a TERRIBLE cook and subjecting the Pinglet to even more meals that I've made has made me feel bad enough to purchase a book on how to make Japanese kiddie lunches.
Combined with my low cooking level, I am also artistically-challenged. As in, there is NO WAY that I'll be able to recreate those
cute little characters
(and no, this is not my Flickr page), so the poor Pinglet has to suffer such creations as:
This is as good as it's going to get. I figure the Pinglet should get used to it early on. Low expectations and all that jazz.
In other news...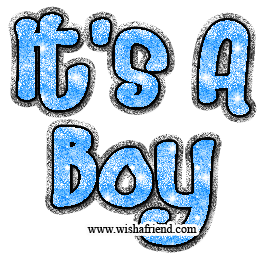 Glitter Graphics, It's A Boy Glitter Graphics
We found out today at the 20-week appointment that the little bubs is a baby boy! Wow...unchartered waters. Should be an interesting ride!